Coursework
Master of Development Studies
Overview
Australia Awards Scholarship recipient: Sambath My (Cambodia)
Due to the fact that there is no gender course at Cambodian Universities and I faced some challenges in my work, I decided to attend various short courses on gender in nearby countries and a local Master course on Development Management. These courses are crucial for jobs in the development sector, but not enough for me to master gender and development field.
Although I had years of experience on the ground, I lacked academic debates and theories in my field. My research skills needed to improve as well. Therefore, I decided to apply for the Australian Awards.

Sambath My
After my graduation, I am confident in conducting research independently and master the field of gender and development. This combined with my previous experience in the last 10 years could push me to decision making positions at multi-national institutions in the first step. Then, it might contribute to achieve my dream job as a freelancer on capacity building and research on gender and development issues.
Development Studies student profile: Michael Main
The most interesting thing about the field of development studies is the diversity of theory and understandings that are being applied across the development field. Development requires ways of thinking that are deeply creative, highly challenging and constantly evolving.
For myself, I have discovered that I possessed at least a few strongly held assumptions and beliefs that have not held up under the scrutiny of some powerful ideas. This course has changed me in important and positive ways.

Michael Main
The Master of Development Studies course covers a very broad range of topics and issues and offers many opportunities through its elective subjects, intensive courses, including the opportunity to study overseas, and the many extra-curricular seminars and activities. There are many different paths to take through this course and it is highly worthwhile to investigate and take hold of the many opportunities that are on offer.
Development Studies student profile: Pauline Soaki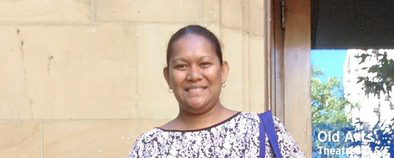 As a development practitioner, one is privileged to meet different people from all walks of life, from the air-conditioned office to a leaf hut in an isolated rural village. The Masters degree is the link that connects my practical experience in the field to the theories in seminar rooms.
The sharing of experiences and lessons learned with Masters students from other countries brings that rich overlap to theories. Seminar leaders encouraged us to think strategically on how we can do things, rather than, this is what you have to do.

Pauline Soaki
And that is what I will take back with me; the richness and diversity of knowledge and information, and the network of support that I have gained from obtaining the degree. The seminar leaders are well abreast with the subjects they taught, and learning from them was a privilege.
Staff profile: Dr Bina Fernandez
Internship opportunities