Coursework
Master of Science (Bioinformatics)
Course overview
2 years full time / 4 years part time
On Campus (Parkville)
Available to domestic and international students.
Summer Intake - January, Start Year Intake - March, and Mid Year Intake - July
Overview
What do you get when you combine genetics, molecular biology, biochemistry and physiology with computer science, statistics and applied mathematics? The answer? Bioinformatics – tools that give you the power to unlock biological secrets.
This coursework masters degree, which includes a major research project component, provides a broad education in bioinformatics, with strong foundations in computer science and statistics.
Whether your background is in biology, biomedicine, mathematics/statistics, or computer science, there's an entry point for you into this degree.
Be in demand globally
With demand for bioinformaticians growing worldwide, you'll be well placed to use the skills and networks you develop during this course to build an exciting career.
Our graduates work in research-focused companies, and public research institutes such as hospitals, universities and government agencies.
A course tailored for you
You'll customise your first-year, based on your academic background, followed by a common second year that builds a broad knowledge of bioinformatics.
Located in the heart of the Melbourne Biomedical Precinct
You'll benefit from our close connections to the 30 hospitals, medical research organisations and biotechnology institutes that make up the Melbourne Biomedical Precinct – all within a short walk of the University of Melbourne.
Develop your skills with real-world problems
You'll graduate with a major research project to feature in your CV. In the research project, you'll develop and apply bioinformatics tools to real-world problems, with the support from an expert bioinformatician from within the Melbourne Biomedical Precinct.
Gain more than just technical skills
We know that soft skills are important too, which is why we include a subject on scientific communication, to ensure you can speak and write effectively about your research.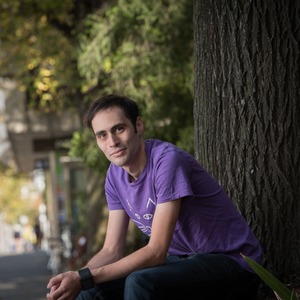 The last 15 years have seen a massive increase in the amount of biological data we are able to produce. Bioinformatics is about using techniques from computer science and statistics to extract information from this data. You develop a wide range of skills, applicable to many potential occupations. Being part of the Parkville Biomedical Precinct is also a big plus, with the University having close connections to the nearby research institutes.
– Luke Zappia, Master of Science (Bioinformatics)